If you've lost teeth due to decay or injury, we can restore your full set of teeth using dental implants. Dental implants are artificial teeth which are affixed in the mouth using posts or a frame attached to the jawbone. They are natural looking and much sturdier than bridges, dentures, and other teeth replacement options.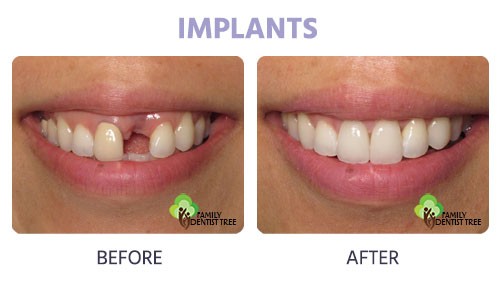 How do Dental Implants Work?
The most common type of dental implants, endosteal implants, involve a post being implanted into the jaw bone. This acts as an artificial root onto which the replacement tooth can be attached. Subperiosteal implants work in much the same way, except instead of placing posts directly into the jaw bone, they affix a metal framework on top of the jaw bone. Posts are then attached to the framework to serve as an anchor for the replacement teeth.
While placing dental implants requires oral surgery, our professionals ensure that patients are as comfortable as possible during the procedure. Afterwards, we recommend managing any discomfort with ice and over-the-counter painkillers such as Ibuprofen.
Benefits of Dental Implants
While there are many cosmetic solutions for missing teeth, dental implants offer the most durability. Because the implants are affixed to the jaw, they are more stable than dentures or bridges and can last a lifetime. The artificial teeth used can be made to match a patient's surrounding teeth, giving them a full, natural looking smile. Implants are often the next best thing to natural teeth.
Are Dental Implants Right for You?
To be a good candidate for dental implants, it's essential that patients have healthy gums and enough bone density in their jaw to support the implants. After the replacement teeth are implanted, patients will have to maintain excellent oral health and commit to regular visits to the dentist. This helps to ensure long-term success.
Dental implants can be a great tooth replacement option that restores the beauty and functionality of your smile. If you'd like to explore your dental implant options, For more information, contact us or schedule your consultation today!