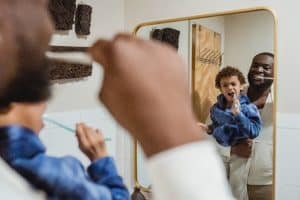 As dental professionals, we are asked daily what we trust and use as our dental products. The store shelves are stocked with an abundant number of pastes, floss and brushes, but which ones are the best?
Dr. Peters prefers to use Arm & Hammer Peroxicare because of its natural whitening properties. This paste also tastes good (per Dr. Peters!) and has a low abrasiveness rating, so it is gentle on your teeth. He uses the reach access flosser- easy to use for hard-to-reach molars and an electric Sonicare toothbrush.
Dr. Mettler prefers to use any toothpaste that has fluoride and has a low abrasiveness rating! He uses Colgate Total floss and a manual toothbrush.
Dr. Stroope uses Sensodyne Fresh Mint toothpaste because of the refreshing taste and gentle cleanse. He uses the Acclean mint floss as that is what his knowledgeable hygiene staff gives him:) and uses a manual toothbrush.
Dr. Bell uses Prevident toothpaste for an extra boost of fluoride. This toothpaste really helps to remineralize weakened areas of enamel. She uses the Twin Line Plackers for floss, as that is what is available at home right now! She prefers an electric Sonicare toothbrush as well.
Dr. Reis prefers Colgate Sensitivity toothpaste because it has a low abrasiveness rating and helps with her sensitivity due to the potassium nitrate ingredient. She uses Glide floss as she explained she has tight contacts between her teeth and it makes the job easier. She uses an Oral B electric toothbrush.
As for the hygienists at our office, here are some of their preferences:
Savay likes Colgate Sensitive because she feels it tastes better than Sensodyne and helps best with her sensitivity. She uses Johnson and Johnson mint floss. She notes that it feels cleaner, tastes good and has substance to it. The Oral B electric toothbrush with the extra soft brush head is what she uses to brush her pearly whites!
Donna prefers the Colgate Sensitive because she favors the taste over all others. She notes that it also keeps her sensitive teeth comfortable. She uses the Acclean brand mint floss because it does a thorough job cleaning between the teeth and she prefers an Oral B electric toothbrush.
Christina likes Sensodyne Pronamel toothpaste. She prefers the low abrasive nature of the paste and also appreciates that this paste is SLS (Sodium Lauryl Sulfate) free. She has a new found love of CoCo floss as it's woven and gets in those hard-to-reach areas, well. She uses the Oral B IO electric brush.
Marissa uses Arm and Hammer toothpastes as she likes the flavor and it's the only toothpaste she doesn't get canker sores from. She grew up using this paste and it continues to be her first choice. She prefers Plackers for floss because it's convenient and she has better compliance. She switches between and electric and manual toothbrush.
Linda brushes with Colgate Max Fresh toothpaste. She likes the taste and notes that it works well to freshen breath. She uses Johnson and Johnson reach woven floss because it feels as though it removes more plaque versus other floss. The Sonicare toothbrush takes first place in her homeware routine.
As you can see, we all differ in our likes for dental products and the door is revolving. There are always new products that come out and we are always eager to inch towards perfect home care! In summary, any toothpaste that contains fluoride and is low abrasive will get the job done as long as it's used two times daily for two minutes and shared with flossing at least once a day! Happy brushing 🙂