With the Holiday's fast approaching all of us are thinking the same things…the food! It's always so good, and if you're anything like me you eat way too much of it. Then once January comes we all make the same resolution…to lose the Holiday weight. Here I've found a couple of fun, cute, and healthy holiday snacks that won't make you feel guilty afterwards! You're sure to be the hit of any party with these treats!
Christmas Tree Pizza
Lunchtime or anytime this Christmas Tree Pizza will be creative and delicious.  Cut out tree shapes before baking pizza crust.  Decorate with your favorite pizza toppings.  Some suggestions: use sliced olives for garland or top with red and yellow bell peppers as ornaments.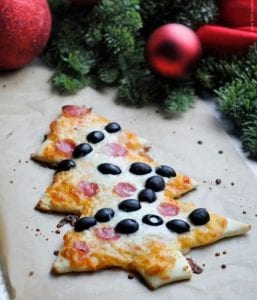 Snowman Hard-Boiled Eggs
Why did the snowman take a dip in boiling water? Because he was made from hard boiled eggs! These adorable snacks are cleverly held together with a stick of dry spaghetti. Or using a toothpick will work also.
Carrot slices form hats, sprigs of parsley shape the arms, and buttons and eyes are black peppercorns (you could also use black sesame seeds). Adding scarves by using a vegetable peeler to make ribbons of zucchini will add the finishing touch!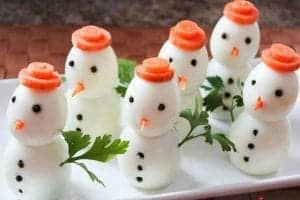 Santa's Belly Cheese Snacks
Ho-ho-ho! Santa's belly is coming to town.  Start with a round Babybel individual cheese snacks and use black and yellow construction paper to craft belts and buckles.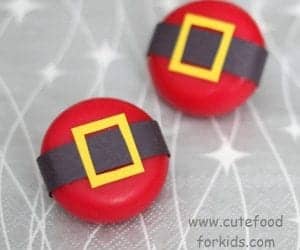 Snowman Snack Platter
This snowman is playing in a winter wonderland!   Use a cookie cutter to cut out circles of bread and/or cheese.  Add a hat and scarf made from bell peppers, and a sliver of carrot for the nose. For the eyes, a mouth, and buttons you can use black sesame seeds or peppercorns. Stick pretzels work great for the arms.    Popcorn snow adds the finishing touch.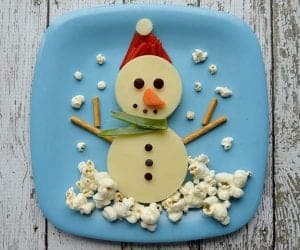 Fruity Candy Cane
Delight your kids with this candy cane. All you need are strawberries, a banana, and a knife.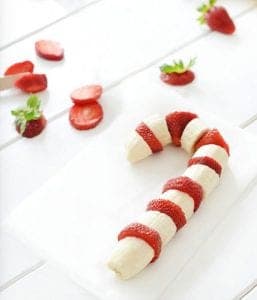 Kiwi Raspberry Christmas Tree
We created an all-fruit Christmas Tree by using sliced kiwi fruits to form the tree, with bright red raspberries as ornaments. You can add a slice of  fruit cut into the shape of a star to create your tree topper (we used banana).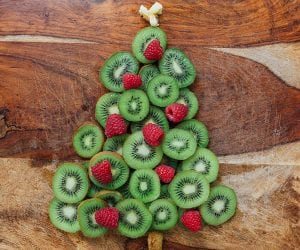 Vegetable Christmas Tree
Make a raw vegetable platter more festive by arranging your broccoli, cherry tomatoes, and yellow bell peppers in the shape of a Christmas tree with carrot sticks for the trunk.  Serve with your favorite salad dressing for dipping.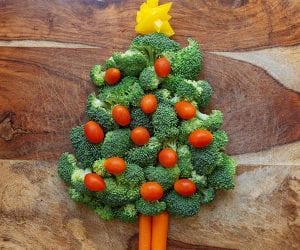 Grinch Kabobs
Cute and easy, these treats are sure to appeal to everyone at your holiday events this year! Just layer grapes, banana, strawberries and a marshmallow to create these fun treats!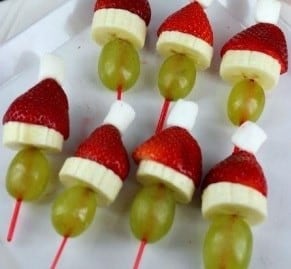 Christmas Tree Cheeseboard
For an eye catching twist on this classic combination, layer your grapes and cheese to create a holiday tree!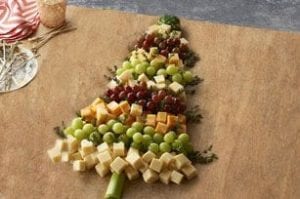 String Cheese Snowman
Looking for a cute idea to pack for school lunches? These easy string cheese snowmen can do the trick!