At Family Dentist Tree, we work with dental benefits every day. We know they can be confusing and difficult to navigate. While it's important to review and understand your specific dental benefit package, here are some general tips to ensure that you are getting the most out of your benefits.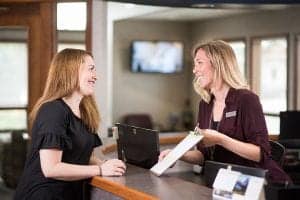 Pre-authorizations
If you are unsure of what your dental insurance will cover, ask your dental office to submit a pre-authorization. While pre-authorizations do not guarantee benefits, they are usually pretty accurate. If you have questions about your pre-authorization, talk to your dental office and they can help you understand your coverage.
Pay-in-full Discounts
Many dental offices offer a small discount for paying in full on the date of service. Your benefits can be sent directly to you when you choose this option. Most dental insurances pay out benefits within one or two weeks. At Family Dentist Tree, we offer a 5% savings (10% for seniors) for paying in full with cash, check or card.
Maximums 
Your dental plan may have an individual or family maximum. These are different than your medical insurance deductible. Dental insurance pays out benefits according to your plan, up to the maximum amount. No benefits are paid after that amount is reached. If you have a treatment plan that will exceed your maximum benefits, talk to your dentist about how to prioritize your treatment.
Annual Benefits
Have you been putting off a crown, a filling, or regular preventive care? If your benefit period is about to renew, be sure to check on your unused benefits. You may be able to proceed with something you have been putting off this year, and free up more of your benefits for the following year.
Accidents
Did you have an accident that resulted in dental treatment? In some cases, you may be able to use medical insurance for coverage instead of using up your dental benefits. Talk to your dental office before they submit your claim to see if this may be an option for you!
Waiting Periods
Some dental plans have waiting periods for certain procedures, such as crowns, bridges, and other treatment that is considered major dental work. Waiting periods vary by plan, but are generally between six months and two years. To get the most out of your benefits, it is best to wait until the waiting period is over so that your insurance will provide coverage for a procedure.
However, be sure to talk to your dentist about your recommended treatment. Some procedures should be completed right away, and it may not be possible to wait for a waiting period to pass. Contact our Rochester family dentists for any questions about dental insurance and coverage, or to schedule an appointment.
---
---
Family Dentist Tree is a family-oriented dental office located in Rochester, MN. Whether you need a cleaning, filling, crown, root canal, treatment for gum disease, or teeth whitening, we are here to help you with all your dental needs. We serve all ages, and our offerings include family dental care and senior plans. Request an appointment online or call us at 507-288-1188.