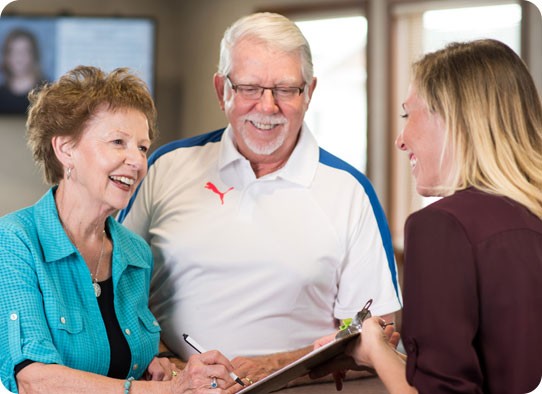 So, you're a senior now. It's time to retire, spend more time with your family, explore the world and relax, but don't forget about those dental appointments! As we get older our teeth continue to change and providing care to keep your smile healthy and looking its best is something we at Family Dentist tree love to do!
You may find yourself with a pile of options through private insurances for dental coverage and it can be hard to know which option is best for you. We've heard the struggles our patients have faced in making these decisions and the cost of paying out of pocket for anything from preventive care to extensive treatment. Many insurance companies have yearly maximums, restrictions on treatment options, monthly premiums, waiting periods and a load of paperwork just to qualify. We want to simplify this process and make it transparent and easy to understand, so we cut out the middleman!
Senior Dental Plans
We are excited to offer our Senior Benefits Plan directly though Family Dentist Tree with no third parties involved! Qualifying is simple; you just need to be 65+ and have no dental insurance.
The Benefits of Our Senior Dental Plan
One low annual membership fee, no monthly premiums!
No annual maximums or waiting periods.
No restrictions on your treatment options, you can always pick the best option for YOU!
Two complete preventative check-ups included a year.
20% off all other dental work.
Get More Information
How Our Senior Dental Plan Works
If you are 65 years or older, you can sign up anytime and we will help you pick the plan that is best for you, whether you visit us 2, 3 or 4 times a year for your preventive care.  Our plan covers your checkups including cleanings, exams, recommended x-rays and fluoride. Need a crown, a filling or a root canal? No problem! This plan offers 20% off of all other dental work!
At Family Dentist Tree we strive to put our patients at the center of everything we do and we are thrilled to offer a plan for our seniors that supports that mission.
Sign Up for Our Senior Dental Plan
---
Family Dentist Tree is a family-oriented dental office located in Rochester, MN. Whether you need a cleaning, filling, crown, root canal, treatment for gum disease, or teeth whitening, we are here to help you with all your dental needs. We serve all ages, and our offerings include including family dental care and senior plans. Request an appointment online or call us at 507-288-1188.