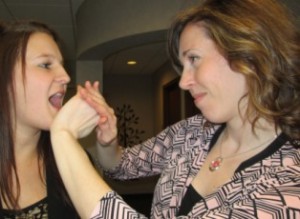 If you suffer from bad breath, otherwise known as halitosis, you are not alone. Dental studies have found that up to 85% of people with persistent bad breath have a dental condition to blame. Bad breath, or a bad taste in the mouth, may be a warning sign of gum disease, decay, or an abscessed tooth. Don't let bad breath keep you from social situations. Make an appointment with your dentist for a check-up and cleaning to help you significantly reduce or eliminate bad breath.
We asked Samantha, a Licensed and Certified Dental Assistant and Administrative Assistant at Family Dentist Tree, what you can do at home to minimize the effects of bad breath.
" The first step in preventing bad breath is brushing, flossing, and using a mouth rinse. When brushing your teeth don't forget to brush your tongue or use a tongue scraper, as your tongue can harbor bacteria and be a major cause of bad breath. For some people, home care will only mask the odor rather than cure it. If you have good home care and notice that you still have bad breath, visit your dentist or your doctor to determine if there is an underlying cause for your condition."
Visit us at www.familydentisttree.com to learn more about our services!