Electric toothbrushes have been around for quite some time. They come in a variety of sizes, brush heads and prices. As a consumer, it can be tricky shopping for a new brush. Here is the advice I give patients when asked about electric toothbrushes.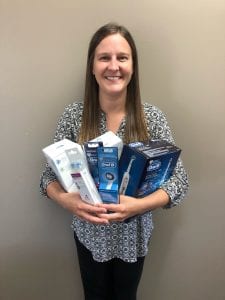 Brand Matters
Stick with a brand that is trusted. I caution patients on purchasing battery operated five dollar brushes, because the bristles used in these brushes are not always soft or extra soft. Replacing the batteries often becomes pricey. Further, not all of the motions they use are effective at cleaning the gumline areas.
Braun Oral B and Sonicare are two brands I've used and trust. They come with compact brush heads that can oscillate or vibrate. They each have two minute timers, and the Oral B even comes with a sensor to alert you when you're applying too much pressure. These brush heads can easily be replaced, and the brushes can stay charged up for several days without needing to be on the charger. Price varies with these brushes, but can range from anywhere to $45-$120 depending on the style.
Benefits of Electric Toothbrushes
Is an electric toothbrush necessary? No. Can it help you to optimize your brushing experience? Yes. With proper brushing techniques and two minutes a time, one could achieve great oral hygiene with either a manual or electric brush. As a hygienist, I feel patients have more success when using an electric brush simply because the brush does the work for you. Brushing becomes more fun when you have a timer letting you know when you've brushed long enough and the vibration of the brush gives you the "just polished" feeling.
How to Switch to an Electric Toothbrush
Electric brushes take getting used to. I often tell patients that the first few weeks are the hardest when making the switch. Learning to turn the brush on once in your mouth and turning it off before taking it out of the mouth to avoid a big mess on the mirror! The feeling can almost tickle the gumline areas as well. Repeated use helps to jump that hurdle. After you've become acquainted with your brush, you should feel you're achieving its maximum benefit with the brush.
It can be helpful to bring your electric toothbrush into an appointment to go over your technique with your hygienist. They can give you pointers and help you alter your technique in those hard to reach areas. At Family Dentist Tree, we also sell both the Oral B and Sonicare brushes and brush head refills. At your next visit, be sure to ask for a demo of the brushes we offer!
Ready to improve your tooth brushing routine? Schedule an appointment to discuss your dental health and actions you could take to improve it. Request an appointment online or call us at 507-288-1188.
---
---
Family Dentist Tree is a family-oriented dental office located in Rochester, MN. Whether you need a cleaning, filling, crown, root canal, treatment for gum disease, or teeth whitening, we are here to help you with all your dental needs. We serve all ages, and our offerings include family dental care and senior plans. Request an appointment online or call us at 507-288-1188.