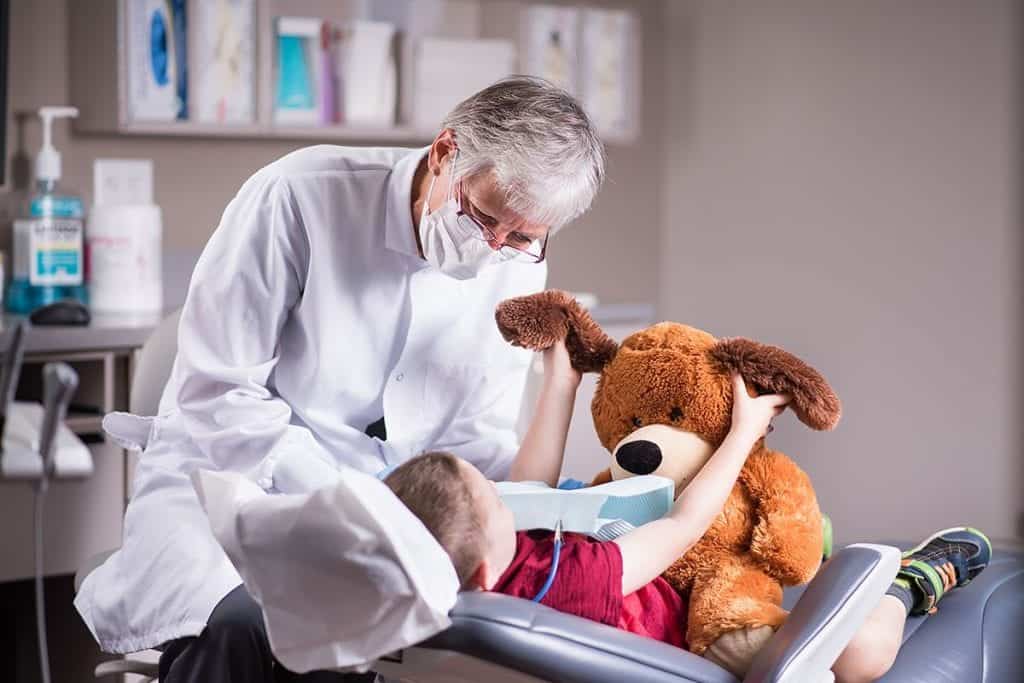 Family Dentist Tree has been successfully back up and running since mid-May. We continue to follow all current guidelines from the CDC, the Minnesota Department of Health, the American Dental Association and the Minnesota Board of Dentistry. Safety is our number one priority when caring for our patients and staff through the ever changing world around us. Our hygienist, Christina, is here to walk you through a typical appointment at our office with our new COVID-19 protocols in place.
Prior to your appointment, you will be asked screening questions by phone, text or e-mail to ensure that you are not at risk of having COVID-19. When you arrive at our office, a properly worn mask is required at all times outside of your treatment room. You can check in at our front desk and have a seat in one of our chairs that are spaced 6 feet apart to allow for proper social distancing. When you are called back by your assistant or hygienist, your temperature will be taken and you will be asked a series of screening questions before entering our clinical area.
Once you have been escorted to your treatment room, following our one way arrows, you will be given a hydrogen peroxide based pre-procedural rinse. You will be required to swish for one minute. Don't worry, it tastes like mouthwash! Although this precaution is still being studied worldwide, it is thought to lower the amount of bacteria and virus in the mouth.
All of our staff are required to change our lab coats after every patient. We also have your room sanitized before you enter. You'll notice we have taken everything off of our walls and counter tops to allow for thorough sanitation of ALL surfaces. We have barriers on our computer keyboards and mice as well. If you wish to watch television or listed to music with headphones, we have disposable headphones available.
Due to COVID-19, we have changed the way we do exams. To optimize infection control, we are selecting one dentist to perform all hygiene exams on rotating days of the week. This will eliminate any cross contamination of aerosols generated during operatory treatment and allows us to preserve personal protection equipment that can be hard to find. This change only affects which dentist examines your teeth during your cleaning. As always, you choose which dentist completes your dental work. If you strongly prefer to see a certain dentist for your exam, simply schedule your cleaning on that dentist's exam day. Our dentists have consistent clinical practice philosophies, so you can be assured of uniform treatment recommendations and care.
Our staff has been diligent about wearing our masks at all times while in the office. When you check out, our stations have been set up to allow for social distancing. We have also added a plexiglass barrier at our check-out desk. All stations are wiped down after each patient.
We understand this is a difficult time for many and that many of you have concerns for your safety and the safety of those you care about. If in the 14 days prior to your appointment you have experienced any symptoms of COVID-19 or have come into contact with someone you know has tested positive, we ask that you call us to reschedule your appointment to ensure that we can maintain a safe environment. If you have any questions or concerns about our COVID-19 policies or procedures, please visit our website or contact our office at 507-288-1188. Your safety  is our top priority. While we have made many changes while working through this difficult time, please rest assured that we still strive to provide friendly, professional and comfortable experiences at Family Dentist Tree!
We would like to sincerely thank you for your patience during this time and for continuing to trust us with your care! We are looking forward to seeing you for your next cleaning and check up!